Photo from pymnts.com
If you want your home to stand out in a market full of so-so properties, a great way to do so is with smart home automation. Smart home features make life more convenient and add a futuristic touch to your house. Many of the best features on the market help make your home more environmentally-friendly, which can also save you big bucks on utility bills. Whether you're getting ready to put your home on the market soon or you just want to add some appeal with the possibility of selling in the future, these smart home automation features make your house stand out from the pack.
Note that while many smart home features are easy to install yourself, you'll want to hire help for anything that involves electrical or plumbing work. Fortunately, hiring a professional shouldn't set you back too much. For instance, the average cost to hire an electrician in Los Angeles should only cost you about $189 to $602.
Smart Lighting
Lighting is a huge part of staging a home for sale. Smart lighting systems give homeowners more control over their lighting while allowing them to customize it in cool new ways. Smart lighting uses LED bulbs and strips that are more expensive than your average lights, but they are also more energy efficient and long-lasting, so they end up saving money in the long run. The light bulbs connect to your home's Wi-Fi network so you can use your smart hub or assistant to control lights with voice commands. Many systems can also be controlled by a mobile app you access on your smartphone or tablet.
Smart Refrigerator
A smart refrigerator may seem excessive at first glance, but once you've lived with one, you'll never want to go back to an analog fridge again. Smart refrigerators connect to your home's Wi-Fi and feature internal cameras so you have access to what's inside at all times. Simply check your feed via the refrigerator's mobile app on your smartphone or tablet. Furthermore, they have a touchscreen interface, so you have the convenience of the internet right in the kitchen. Take inventory of what you have in the kitchen, and program it to your refrigerator's system to come up with a list of possible recipes you can make for dinner. Never worry about forgetting your grocery list at home again– with a smart refrigerator, you can access your to-buy list anywhere and everywhere.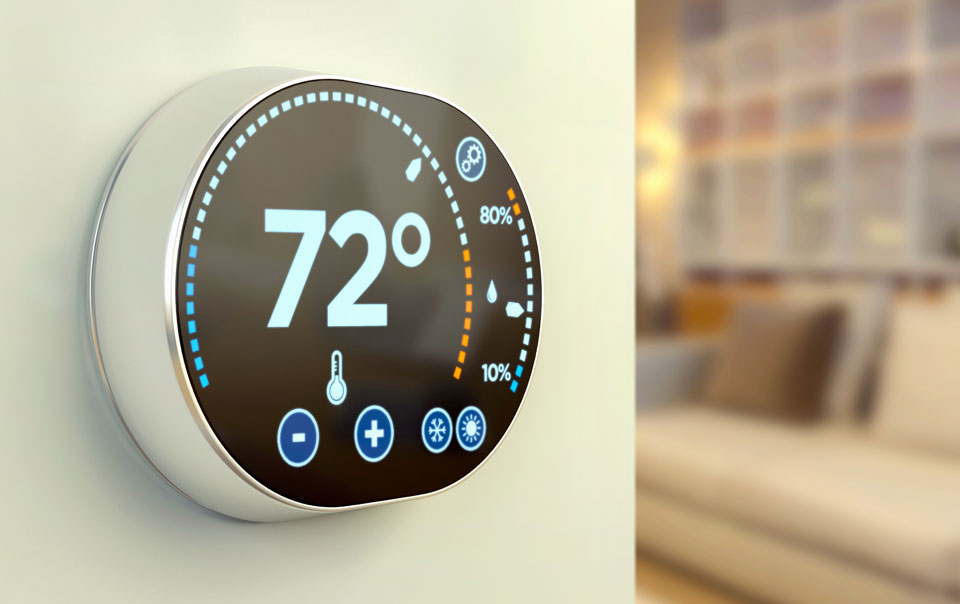 Smart Thermostat
While old-fashioned thermostats can be fickle, smart thermostats are intuitive. These innovative heat and AC devices learn your family's behaviors and preferences while monitoring the weather so it can automatically adjust to your liking. Not having to fiddle with your thermostat to make your home feel just right saves more than just your sanity– it will also save you money. Your home's AC and heating system doesn't have to struggle to change rapidly. Rather, it gradually adjusts itself without overexerting your HVAC system. Like a lot of other smart home features, smart thermostats connect to your home's Wi-Fi so you can control it via a mobile app or your smart hub if you integrate the two.
Smart home features may not add much to your home's asking price, but they do help your house stand out in a market full of the same old stuff. Not only do smart home features make your home more convenient, but they can also help save you money on utility bills. Smart lighting is incredibly customizable and adds appeal when staging your home to sell. A smart refrigerator helps your family stay on top of their food consumption and meal planning, and smart thermostats keep your home comfortable without putting too much strain on your energy consumption.
Suzie Wilson ⎸info@happierhome.net  ⎸Happier Home