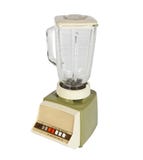 Today I am asking you to go throughout your house and find the items you haven't used in years. Things like a blender, printer, chopper…is it just taking up valuable real estate in your home. Have you upgraded since then?
For example, I had a regular blender for years then I got a Ninja Blender and use that. The regular blender just sat there. I got rid of it and donated it and now someone else who needed a blender has it.
I always think that the stuff that is just sitting in my house not being used could make someone else happy.